I wrote an article long ago. Early 2013 I think, about my wishes for the X-Pro2. Lets see how much came true…
Light sensor
My prediction was a 25MP Organic Sensor with the best capabilities from the X-trans sensor.
It came with a 24MP X Trans III sensor – and a great one, with the best RAW files I've seen from a Fujifilm camera.
Crop factor
Wished for 1.2, predicted 1.5. It stayed 1.5
Shutter
I wished for an in camera Leaf Shutter…. It came with a focal plane shutter, that sounds awesome and is pretty silent.
Physical Controls
"The shutter speed control has a center lock. I'd get rid of that and place it on the Exposure compensation dial instead. I NEVER accidentally turn the shutter speed dial, but i keep knocking the Exposure comp out…. I wouldn't mind a dedicated wheel for quick choosing the iso, but i can live without it. Instead of the diopter on the viewfinder, i'd rather have an adjustable one, as on the X-e1 and the X100. Buying one that fits my sight, doesn't fit the next guy, if i ask someone to shoot a photo of me, or to check a picture using the evf. Please make the Exposure compensation dial go from -3 to +3."
Centerlock is still there, I got a dedicated dial for ISO, but much more clever than I thought as it is worked into the Shutter speed dial, in the same manner as i.e. the Minolta CLE, where you lift the outer housing of the shutter speed dial, to pick your preferred ISO setting.
We got the adjustable diopter as well. And the Exposure wheel now goes to 3 and beyond. Up to 5 to be exact, but that you have to set in the menu. I rarely go beyond 1. Maybe my shooting has changed and I use the Shutter speed dial instead.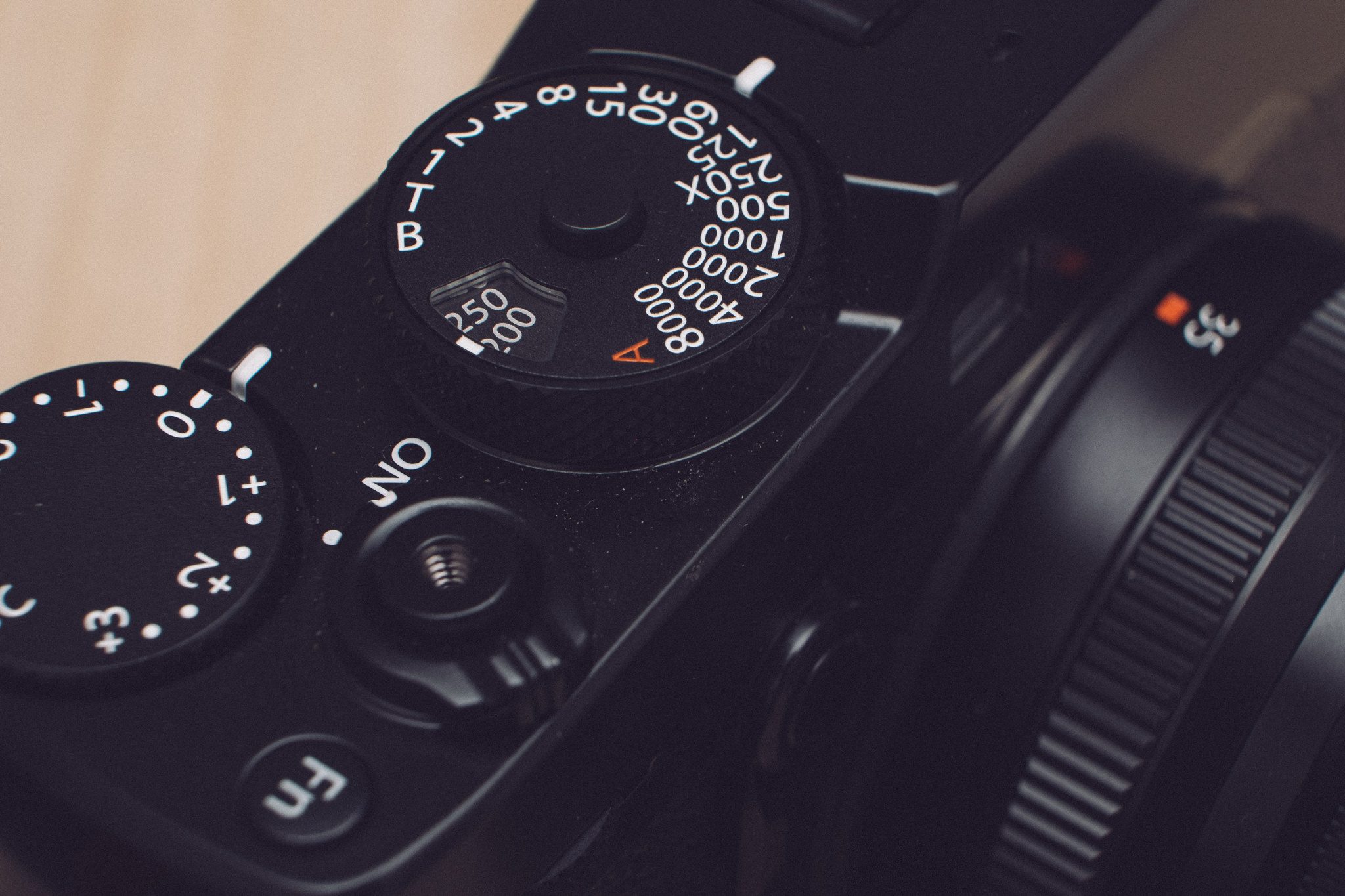 ---
"The placement of the battery and SD card are annoying, if you use the X-Pro on a stand. But placing it on the side, will destroy the retro look of the X-Pro. I'd rather live with unscrewing whatever i use the bottom thread for."
Fujifilm moved the SD slots to the side and added an extra SD card slot. You hardly notice it, and I'm pleased with the solution.
---
Build in flash
"A flash will be an external flash. But a build in transmitter, with an optional receiver for triggering external flash's would be a nice touch." 
No build in flash trigger. It might have been a nightmare to make such a thing work with every flash out there.
EVF/OVF and screen
"Having no screen at all, could be a somewhat daring touch and would save a lot of battery life. But you can just turn it off. Having an upgraded screen, with a much higher resolution would be good for showing off shots to a client. The EVF should also have a much higher resolution and a much speedier update frequency. And it will surely be so, as Fuji are rumored to fit a double processor in the X-Pro1s or X-Pro2, whatever it'll be called.
The OVF are pretty ingenious. Making it a bit smarter would be a natural evolution. But i have no complaints in that department."
Well, everything in that department came through. Higher resolution, speedier update frequency (85fps) and the OVF became much smarter and are the most ingenious viewfinder in any camera today.

Battery life
"Thats a tough one. If Fuji can make the software smarter, they will be able to save a lot of battery life, but they'd also have to go for a better battery, that would last 600 shots, combined raw/jpeg shooting."
The preproduction firmware are not extremely convincing in that department. But usually finetuning and energy consumption are set for last in a development fase. Lets see what the first production firmware does to the X-Pro2 energy wise.
Memory Buffer
"Bigger! Nough said!"
And so they did!
Software picture processing.
"This is a bit of a hot potato. There is a lot of pride among photographers getting the shot directly with the existing light and not having to process the picture. But everybody in the age of digital photography messes with their images, as we did in the old day of film, in the dark room. But what could be the coolest way to do this? If Fuji were able to read Lightroom presets – a crazy thought i know – It would be crazy cool. You could add the little touch up things you do anyway and maybe a bit of personal coloring, that makes it personal. Maybe as some sort of a plugin or something. I would't mind that at all."

It didn't come to that… Yet! Lets see what the future brings.
Speed
"I just want the general speed to be insane. I want it to autofocus crazy fast in any light condition, instant shutter release, no lag what so ever. write to card lightning fast. Insanely fast EVF and so forth. Speed, means that the camera doesn't prevent you from getting that perfectly timed photo."
Shutter release is instant, It is a very fast camera, also in low light. The buffers works fast and I never get stuck looking at a red "write to card" LED. Unless I try to provoke it, and just hold down the shutter release at 8 fps until the buffer are filled up.
Weather Sealing
"This is a huge deal. It just have to be weather sealed. I want to photograph in rainstorms, when it snows, in crap weather. I want to be able to drop the X-Pro in a pile of mud, and be able to wipe it off, and continue shooting. I want to be able to bike in shitty weather, with the x-pro dangling from my side, not having to worry about it. Seal the thing… please."
It is weather sealed. Which also means dust proof and condense resistant. Which is the really important part.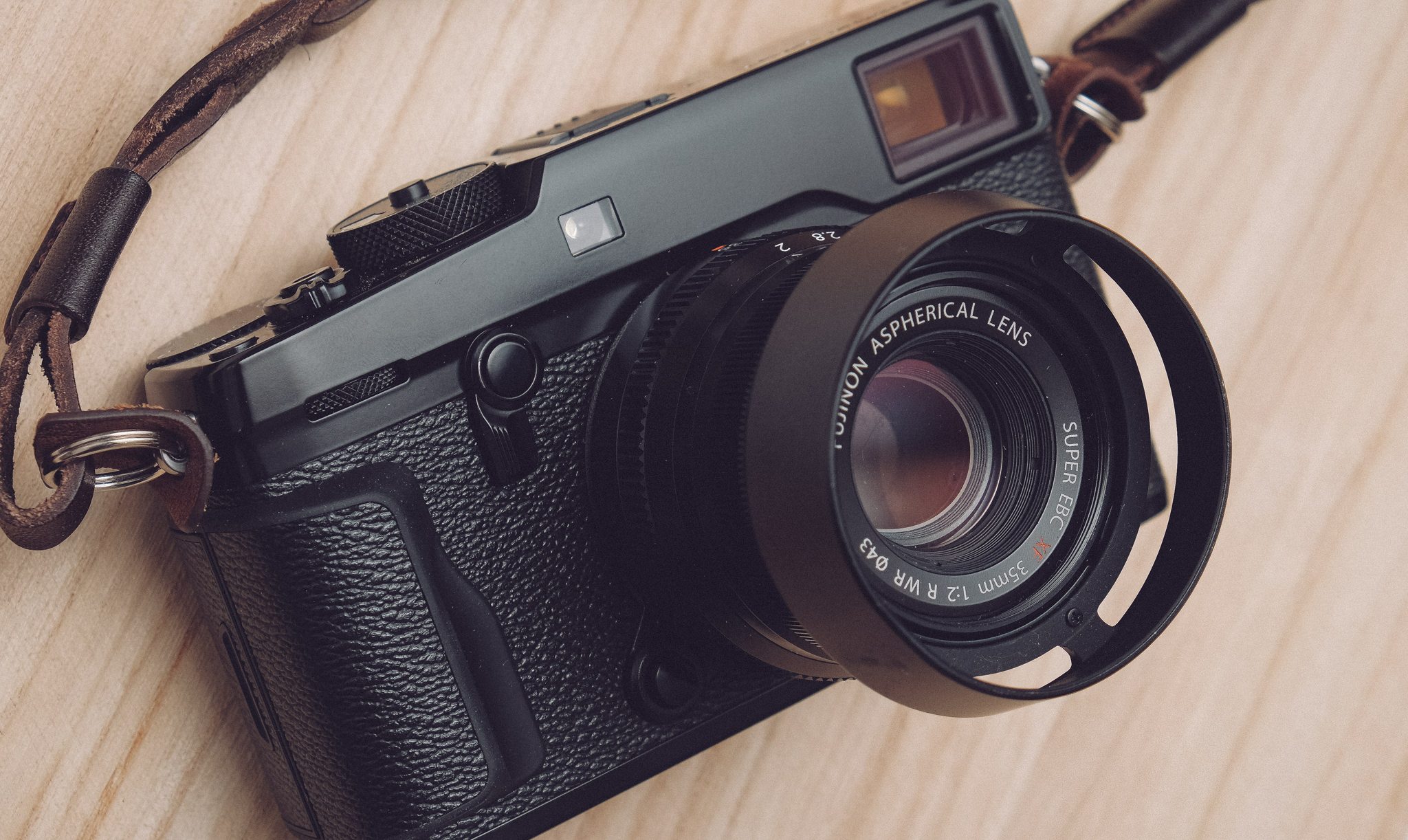 Design
"I think the X-Pro1 is as gorgeous as the X100. It looks like a mix between an old Contax, a 57 Canon L1 and a Leica. Having the X-Pro as both black and black/silver would appeal to a lot of buyers. Id keep it as it is, and NOT putting on an S on the lower right buttom on the face of the camera, as on the X100S. It's a bad looking font. If the next X-Pro will be called X-Pro1s, make the S red in a similar font or something, that would look cool."
It looks as close to the X-Pro1 as I could have hoped for. The Fujifilm X-Pro2 is a gorgeous looking camera.
GPS and Wifi…
"Personally i think it would eat up precious battery life. I can see the benefit from such functions, especially if the GPS could be used as a tracking device, if some douche nicked the camera. Wifi… It would be great if shooting tethered, a thing i miss when using the X in the studio."
That functionality came with the X-T1 and are also to be found in the X-Pro2. Not the GPS though. But you can set up your phone to geo tag your pictures.
Power supply
"Powering up from external source. I'd like if I could power the camera from a power supply in the studio."
Which is now possible with a power supply with a battery casing.
Tethered Shooting
"To Shoot tethered via cable or wifi, that would be cool. If a camera has a working self timer, it will be possible to trigger it from an outside source. Worst case with a USB cable, best case via WIFI, from an app on an iPad, iPhone, Computer, tablet, smartphone android whatnot thingy."
Well that came as well, with the X-T1. I do hope there will come a more reliable Mac based tether plugin. I had it up and running, but It failed when lightroom was updated.
Software
"A Customizable Q-menu would be a cool addition. There is a few things i use all the time and a few things I rarely use. Just changing the position of the existing menu items, would be a plus for me personally."
That was also introduced with the X-T1 and have been further improved with a "my menu" in the menus and a much more intuitive menu system.
---
"Set up a possibility to choose a transparency for the distance metering bar, which is eye scratching blue. I can't frame properly with the blue bar obstructing my view."
They fixed that long ago with the X-T1 and it has come to the other cameras as well.  Nicely done!
Movie mode
"Make every jpg setting possible, make a dedicated video Q-Menu, make everything manual. Have a white balance bracket setting, so the whitebalance will be in control within a range. let it be possible to choose a "film" setting, with a high dynamic range. As the cinestyle is for Canon DSLRs. One could do that by maintaining the highlight and shadow tones, and extending the range of these controls."
Well there is a bit of attention to put into that field still. I'm sure Fuji will look into the video department via firmware. But lets see. I really hope they will.
That was my wish list for an X-Pro2 and it came up pretty realistic as well – at least i think it did. The X-Pro2 is what I hoped for and it exceeded my expectations quite a bit. I really love that camera and hope that Fuji will stick to their Kaizen principle, and improve this already fantastic camera along the way.